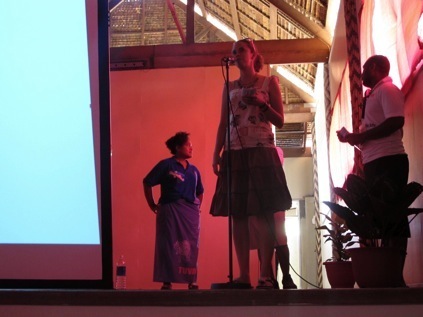 We were fortunate to be able to hold the International Premiere of the Pacific Stories 2011 short films during the festival. Amie and Lisa were on hand to present the films to an absolutely packed house – it was hot, steamy and tropical in that big auditorium but that didn't stop the show! The reaction from the crowd was wonderful and it was the perfect platform to tell stories through the film about Australia's Pacific Islander diaspora. We sold quite a few DVDs to festival attendees and locals, so we know that those stories are now being spread around the world! We missed having co-facilitator Lia Pa'ap'a by our side – and the other filmmakers… Here's a little reminder of the films and the 8 wonderful writer/directors: This is My Culture by Ranu James, Fehuluni by Leilani Gibson, Kome Kalana – My Bubu by Wari Kome, Upi Mop Le – The Last Fish by John Harvey, Coconut by Pauline Vetuna, Pacific Women's Weaving Circle by Lisa Hilli, Reva Reva by Paia Juste-Constant, From One to Another by Venina Kaloumaira.
The success of the Pacific Stories screening and in fact, the entire film program, demonstrated a shift to a more contemporary side of the Festival of Pacific Arts and highlighted the medium of film as an important way to share stories and create dialogue about issues affecting people and communities in the Pacific. (We hope that the future FOPAs embrace a film program too – the next one's in Guam). In addition, Amie was a part of the "Filmmaking in the Pacific" panel with Penny Smallacombe (AUS), Monica Guzman (GUAM), Adilah Dolaiano (SOL) and hosted by Joost Den Hartog from the Australia International Documentary Conference. As a result of this forum a Facebook group called FOPAfilm has been formed to continue discussions about filmmaking in the Pacific – for more details please see – https://www.facebook.com/groups/fopafilm/
The Pacific Stories films screened alongside the World Premiere of the Wantok Stori project short film Wea Nao Mi? (Where Am I?) – written, directed and acted by young first-time filmmakers in Honiara. It was an exciting event with the young people taking centre stage and introducing the film.