Docked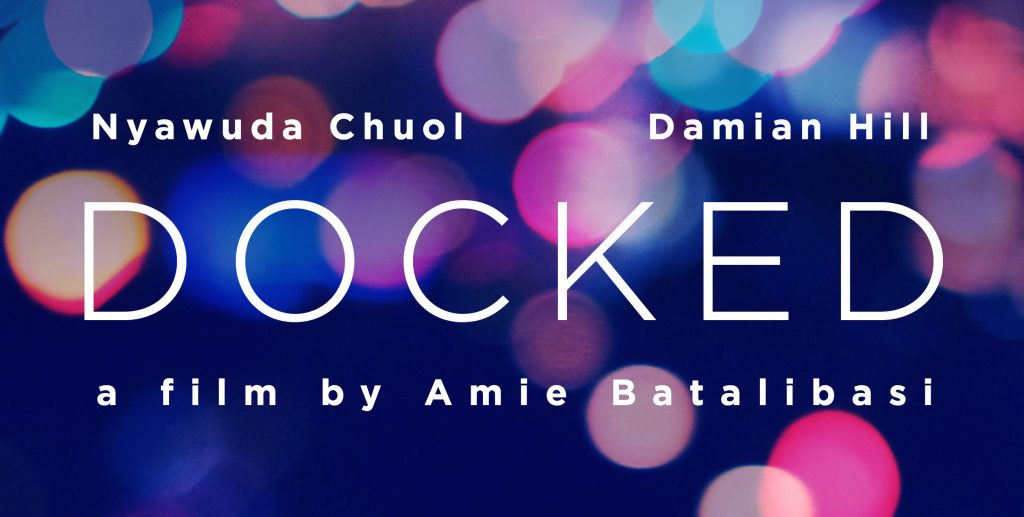 Docked is a short film by Amie Batalibasi starring emerging South Sudanese actress Nyawuda Chuol with vale Damian Hill (PAWNO, West of Sunshine).
DOCKED explores the notion that feeling lost can be a universal melancholy with the potential to bring two strangers together.
DOCKED reviews 2019:
The Age: "… Amie Batalibasi's Docked (3 and a ½ stars, 15+, 20 minutes), a nocturnal black and white sojourn through the corners of inner-city Melbourne shared by a South Sudanese-born bartender, Chubath (Nyawuda Chuol), and a despairing customer, Dale (Damian Hill). Happenstance and the conciliatory comfort of strangers allow for moments of accommodation, which Batalibasi threads with spiky charm."
ArtsHub review: "Docked is a small film that glows quietly with poignancy and power, not least due to the performances of the two leads."
The film follows Chubath, a young South Sudanese aspiring actress works late nights at a bar and meets an older guy, Dale, who is at a crisis point in his life. They spend the night walking around together in this story about two people from different worlds who find an unlikely connection, one night in Melbourne.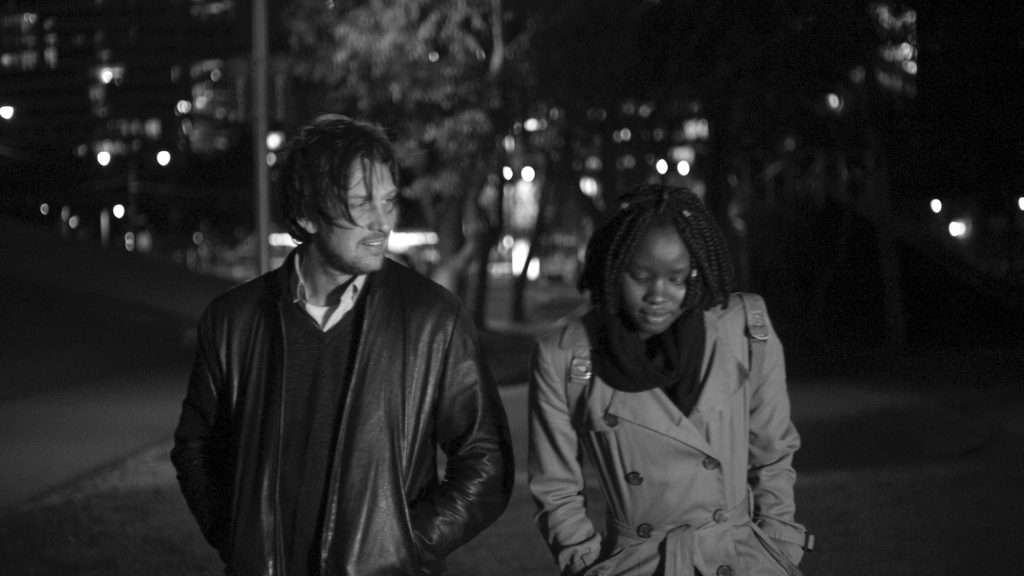 Director's Statement
It was important to me that this film centre around a woman of colour because our Australian screens are lacking this representation. South Sudanese actress Nyawuda Chuol very much inspired the character Chubath. They both work at a bar, they're both aspiring actresses and share some of the same dilemmas.
Race and representation is something we talked about before writing the script. I wanted to have a character on screen who wasn't entirely defined by her race or her refugee background, but dealing with a universal struggle in life – finding your place in the world. I wanted to pair her with someone unlikely, from a completely different background, and essentially have two characters on screen together that I've never seen before. Instead of an intense love story, a tragedy or a fleeting interaction, I wanted to portray people from different worlds who spend meaningful time together and in a way, affect each other through conversation and time exploring age, race, humour and identity.
The locations were of paramount importance and I chose them based on a bike ride I would do everyday from my home into Melbourne city. I've always marvelled with fascination at the docks. There's something poetic about it. And the area in Melbourne called Docklands is very cinematic – it's right in the heart of the city yet sometimes it seems completely deserted and can feel like an abandoned city with no one in it. I thought that it would be a perfect place to have two characters who are feeling lost in this space. The location itself reflects where they're at in life.
The cinematography is hand held and we stayed pretty close to the actors. Our crew was super small which coming from documentary filmmaking, I felt was important. The black and white was inspired by films like FRANCES HA, MEDICINE FOR MELANCHOLY and BLUE JAY. This form assists to strip the story back, to focus on the two characters as they interact in the urban landscape. There's something about it that also really works with the night/ noire feel and the dichotomy of the relationships and themes in the overall piece. The electronically generated music sometimes has an otherworldliness to it which compliments the tone of the film.
Essentially, much like the mumblecore films of the 90s, the intention with DOCKED was to focus on the relationship and the conversation – in a filmmaking process that was striped back to the bare essentials. And in addition to that, I wanted to juxtapose dynamic locations and diverse casting to push the storytelling into a place little explored in Australian cinema.
The film is an independent micro-budget short and the first narrative film to be produced via Amie Batalibasi's Colour Box Studio – a creative hub for artists. DOCKED was shot over two nights around Docklands and Footscray in Melbourne. Littlefoot Bar in Footscray provided one of the film's locations for the bar scenes.
To follow the journey go to the Docked Facebook page: www.facebook.com/dockedfilm
SCREENINGS:
• Melbourne Women in Film Festival, Feb 2019
• Trenton Film Festival, NY, USA 2018
• Mexico International Film Festival, Mexico 2018
• Noosa International Film Festival, Australia 2018