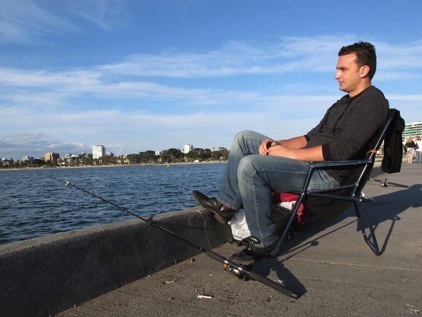 Fishing For Culture is a community film project initiated by Fisheries Victoria. I am happy to be on board as the the filmmaker.
Fishing is important to many different cultures for many different reasons and as such, this 30 minute film will document some of the fishing stories from around the world and we are currently looking for people to get involved.
FACEBOOK
We invite EVERYONE to contribute to the Facebook page: www.facebook.com/fishingforculture. Please feel free to post fishing stories and photos. Your thoughts and ideas will help to inform the larger project – a documentary film.
DOCUMENTARY
We would like up to 8 people living in or around Melbourne, from different cultures to share their stories including how your migration experience changed your fishing habits, what was fishing like for you before migrating and why is fishing important to you.
Pictured above: Ahmet is a keen fisherman and likes to fish most weekends in Summer down at the St Kilda Pier. He is originally from Trabzon, on the north coast of Turkey – a place where fish is in integral part of the diet. He has been in Australia since 2007 and he says he enjoys fishing because, "after a full week of work I can sit, relax and think about life and the future. Even if I sit here for 3 or 4 hours and there's no bites – I am happy to stay. Sometimes I talk to people, fishermen and tourists. Even if I don't catch any fish at the end of the day I am still satisfied because I have had a chance to clear my mind."