We're delighted to announce that ABC International has acquired broadcast rights for BLACKBIRD to screen throughout the Asia Pacific region, free to air via their ABC international platform.
This is particularly exciting because it means that those throughout the Asia Pacific region in over 40 countries, will have the opportunity to access to our short film. BLACKBIRD is inspired by the history of Australia's sugar slaves and it's an honour to be able to share our story in this way – particularly with communities and regions where the effects of this history still reverberates.
Upcoming screening: NEW DATE/ TIME: Saturday 15 August 2020 at 4.45pm AEDT – Australian Eastern Daylight Time. This broadcast will be followed by a Facebook LIVE Q&A. For updates, join the Facebook event: https://www.facebook.com/events/271311284121667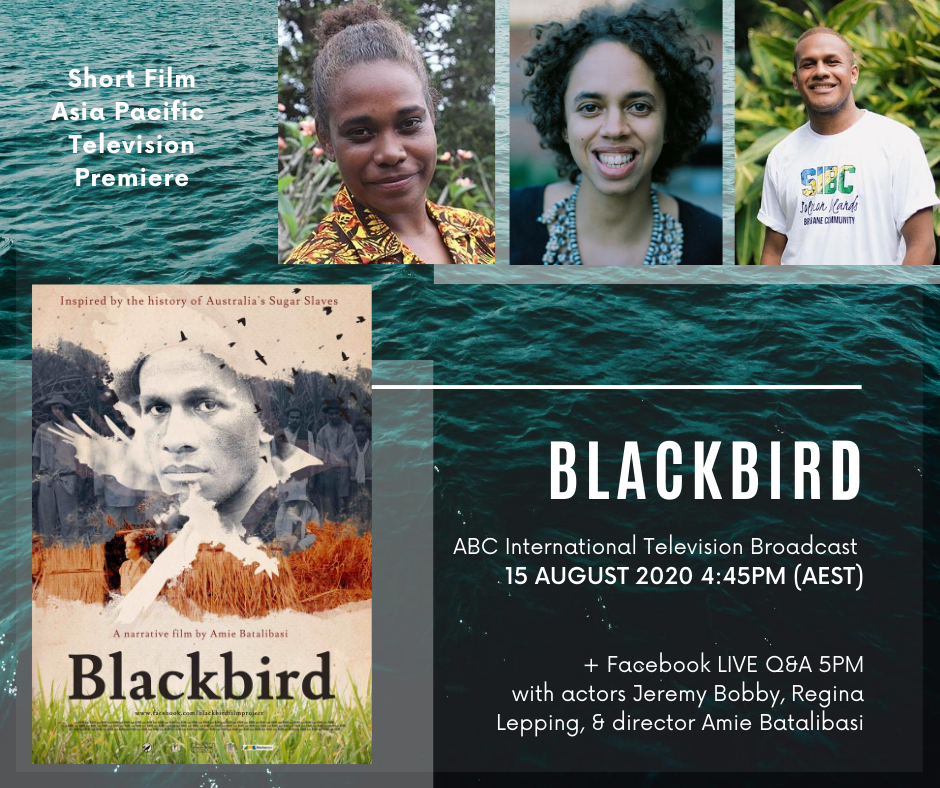 For programming dates and times, keep an eye out on your local TV Guide according to your screening territory: http://www.abcaustralia.net.au/tvguide
ABC International Territories means: the Pacific Islands including Cook Islands, East Timor, Federated States of Micronesia, Fiji, French Polynesia, Guam, Kiribati, Marshall Islands, Nauru, New Caledonia, Niue, Northern Marianas, Palau, Papua New Guinea, Samoa, Solomon Islands, Tahiti, Tokelau, Tonga, Tuvalu, Vanuatu, Wallis and Futuna, and Asia including Afghanistan, Armenia, Azerbaijan, Bangladesh, Bhutan, Brunei, Cambodia, Peoples Republic of China, Hong Kong, India, Indonesia, Japan, Kazakhstan, Laos, Macau, Malaysia, Mongolia, Myanmar (Burma), Nepal, North Korea, Pakistan, Philippines, Singapore, South Korea, Sri-Lanka, Republic of China (Taiwan), Thailand, Tibet, Turkmenistan, Uzbekistan and Vietnam.
Please note: this broadcast does not include Australia.
For those outside of the listed ABC Australia regions, BLACKBIRD can be viewed via Vimeo OnDemand online streaming: WATCH BLACKBIRD
More information about BLACKBIRD: http://amiebatalibasi.com/blackbird/